Uncover our purpose, mission and core values; explore how we collaborate to leave a lasting impact on this world.
This is what fuels us and drives us to keep moving forward each day.
At INVIDO, our mission is to make communication more accessible and effective for businesses, so they can interact with customers in a meaningful way. We strive to provide easy-to-use yet robust technology that helps businesses of all sizes optimize their customer relationships and communication efforts. Our vision is to become a globally recognized leader in video messaging software, providing innovative tools and resources to help companies succeed in an ever-evolving digital landscape.
At INVIDO, we are dedicated to advancing the way businesses communicate and manage customer relationships. We believe that modern video messaging software can revolutionize the way companies interact with their customers, from lead generation to support operations.
We understand the challenges of managing customer relations in a digital world, and we are proud to provide leading solutions that enable businesses to thrive. Our innovative tools and resources empower companies to improve communication, streamline processes, and increase efficiency.
We believe that through technology we can help businesses succeed in today's ever-evolving digital landscape. We look forward to continuing our journey of advancing video messaging software for business needs and creating an amazing online customer experience.
We understand how valuable customer relationships can be, and we strive to provide the best tools that enable businesses to reach their goals. At INVIDO, we are committed to helping you take control of your customer relations so you can focus on what matters most: your customers' success.
Thank you for choosing us as your partner in success! We look forward to working together to build a brighter future.
Sincerely,
The INVIDO Team
Explore

the full potential of video messages —

It's Free
Sign up for a free trial now. Build personal connections with your customers that will result in more sales opportunities. See how it works first-hand, and start engaging today!
Simon
Full Stack Developer
Michelle
Content Marketing
Amrfathy
Front End Development
Giving back is an important part of our mission.
This is why we support the Climate Pledge to reduce CO2 in our atmospehere.
We believe in making the world a better place through giving and helping those in need.
To avert the worst consequences of climate change, the global average temperature should rise by no more than 1.5 °C above pre-industrial levels. This corresponds to a global reduction in CO₂ emissions from around 40 gigatons per year in 2018 to 0 in 2050.
For this to be achieved, new emissions must be significantly reduced worldwide and, in addition, the CO₂ particles already present in the atmosphere must be removed.
What's yours is your own, and it will always stay that way.
Our business is headquartered in Austria, and thus guarantees you to follow along all rules and regulations according to the European Union. At our company, we recognize the indispensable nature of trust in business. We hold ourselves to the highest standards and are dedicated to preserving your faith each time you work with us.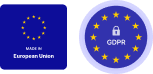 CO₂ removal: An important task for all of us
You support carbon dioxide removal technologies
Invido donates 1% of your purchase to remove CO₂ from the atmosphere.